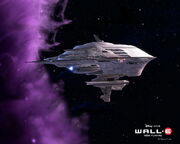 The Axiom is the second ship of the
Cozmoz Space Cruise's
, just like the inspiration from the movie: WALL-E, the Portal game's & some Venus Project arcetecte, the outside & inside has a great crome artecture (along with location's as seen from the movie.
This page is still under work, you can help but fixing any faults & starting articles linked from this one!
This article can benefit with one or more pictures
This fanfiction work is a group project, you can join in by,starting new articles,getting useful data & pic's, work on already-made article's & more...
Ship Zones
Edit
Entertainment Areas
Edit
Dining Places
Edit
Facility Modules
Edit
Deck Designs
Edit
Staterooms
Edit
Exclusive Schmatics
Edit
Protacol References
Edit