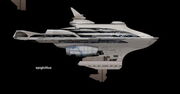 The Epigiottus is the 2nd biggest ship of the fleet (also bigger then the Zeprtus & Axiom). exclusively part of this ship is the entertainment,casino alike Intersteller secter.
This page is still under work, you can help but fixing any faults & starting articles linked from this one!
This article can benefit with one or more pictures
This fanfiction work is a group project, you can join in by,starting new articles,getting useful data & pic's, work on already-made article's & more...
Ship Zones
Edit
Entertainment Areas
Edit
Dining Places
Edit
Facility Modules
Edit
Deck Designs
Edit
Staterooms
Edit
Exclusive Schmatics
Edit
Protacol References
Edit