Attention RuckasNuckas EVERYWHERE!!!, introducing an outstanding cruise vessel of Nucka culture & adventure: the MS Nucka Tidecruiser, an amazing & Huge cruise ship specificly 4 RuckasNuckas (based on the Royalty Valhalla vessel from Simpsons Season 23, Episode 19 '20 ft bigger') with 26 deck's, themed Onboard neighbourhoods, unreal onboard activities (& rides), live shows & entertainment & much more!
This page is still under work, you can help but fixing any faults & starting articles linked from this one!
This article can benefit with one or more pictures
This fanfiction work is a group project, you can join in by,starting new articles,getting useful data & pic's, work on already-made article's & more...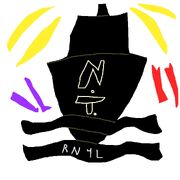 Ship Neighbourhoods
Edit
Dining Areas
Edit
Entertinment Places
Edit
Stuff 'N' Facilities
Edit
Cool-Off Staterooms
Edit
Decks Of The Ship
Edit
Note: Before we nuckas are able to begin an officil Deck Plans for this R.V sized,Nucka & Redneck style inspired ship. please know that you'll work up a template of Royalty Valhalla deck plans [pic's of reference can be found on the internet Or Simpsons Wiki] to plan out where each facility,neighbourhood N shit is gonna be as shown. So grab a temp,sketch some ideas & go Fuckin Nuts!!.
Gallery Of Nucka Fun
Edit
Note: This here is the gallery section of this fanon cruise artiele of fanart pic's of almost everywhere on the ship, when the concept art & stuff are complete [either any cartoon style you Nuckas are good at], based on any event, chillin spot, insane stunt & more (comin soon)
Other Cruise Shit
Edit
Kick-Ass References
Edit
Ad blocker interference detected!
Wikia is a free-to-use site that makes money from advertising. We have a modified experience for viewers using ad blockers

Wikia is not accessible if you've made further modifications. Remove the custom ad blocker rule(s) and the page will load as expected.