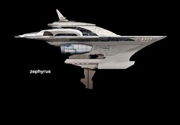 The Zephyrus is the smallest ship of the Cosmoz fleet (close to the size of the Axiom )! Though less bigger then the other ships, this ship is packed with the amazing things onboard that these ship's have to offer.
This page is still under work, you can help but fixing any faults & starting articles linked from this one!
This article can benefit with one or more pictures
This fanfiction work is a group project, you can join in by,starting new articles,getting useful data & pic's, work on already-made article's & more...
Ship Zones
Edit
Entertainment Areas
Edit
Dining Places
Edit
Facility Modules
Edit
Deck Designs
Edit
Staterooms
Edit
Exclusive Schmatics
Edit
Protacol References
Edit